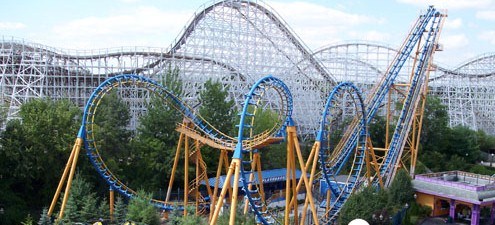 Source.
They say when you die everything you've seen and known flashes in front of your eyes (or, by some accounts, it's more of a montage). I'm not there yet, but at 25 it's kinda like that. Pretty much
everyone came out to eat some yaki burgers
and play soccer, kickball, and football. It was most enjoyable, as I do like sports.
The day was capped by a downtown outing. Dussini is still the best place to go.
Sunday I found myself blinking into consciousness and seeing three ruffians at my door. Either from tiredom (this was at 6:00) or disbelief, I think I just rolled over. These thugs set upon me with duct tape and a hood and I soon found myself in the back of a car. We ended up at Roscoe's for some superb deliciousness, followed by an outing at the local roller coastorium.
They've found some interesting ways to hang you from a coaster track in the past few years. These aren't your granddaddy's rides.