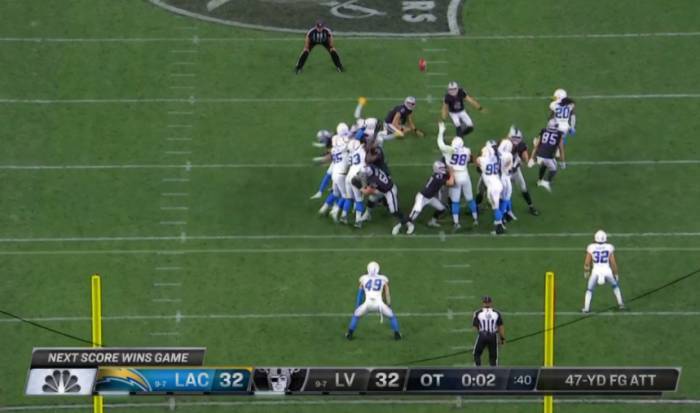 Also a clencher, the week 18 de facto playoff matchup was, in the words of NFL twitter,
"Best season finale ever?"
. Early-game momentum swings, a Chargers comeback capped by
Herbert taking hits from Crosby for downs 1-3 and then getting it done on 4th and long
. There were plenty of referee antics as well.
The last drive

With both teams converting FGs in OT, the tie was within reach
. The Raiders ran the ball (effectively) and weren't hurrying. They needed to get down the field and not give up a punt or turnover. The Chargers looked to bend but not break - then again they were having trouble with Jacobs all game.
Perhaps Bisaccia and Staley exchanged glances across the field and decided they could mutually accept guaranteed playoffs.
The timeout
With a 40-second play clock, it really doesn't matter whether it's run with 38 or 34 seconds; if they run and the ball stays in bounds, they can let the clock run down to zero after the play in either scenario.

Were the Chargers trying to force the Raiders to run a play to get the ball back? Absolutely not. For one, if that had been the case, Los Angeles would have called a timeout immediately after the second-down run. It did not. Furthermore, it had nothing to gain by getting the ball back. Staley's team is in a vulnerable position given the field position and doesn't want to incentivize the Raiders to try to score.
Source.
Indeed, a timeout with 38 seconds meant
the Raiders could run/kneel on third down and let the game end unless the Chargers used their second timeout
. After the game Staley explained that it was to change personnel and he perhaps signaled that by waiting for the play clock to run down. Then again,
even the casual NFL fan has seen some pretty bizarre effects of fog of war
in weird situations that no team prepares for. Normally it's a PAT question or on which side of the two minute warning to call timeout. This one was considerably less conventional, with the added ambiguity of what Staley was intending with his timeout call.
Cris Collinsworth quickly drew the wrong conclusion and thereby stoked the controversy, because of course.
After the timeout, Jacobs picked up a first down and got his team
in position for a sub-50 yarder or (with the first down) the ability to kneel the game out
.
The decision
| | |
| --- | --- |
| /u/deutschdachs | "Well we could tie for the meme and play a team who's been in the past two Super Bowls ORrrr we could win this game and play a team whose last playoff win came during the Cold War and against the Houston Oilers..." |
Biscaccia decided to wind the clock down to two seconds and attempt the game-winner. It was mathematically riskier than a kneeldown, but
I presume there was a Bengals/Chiefs calculation that had been thought through before the game
.
Aftermath

/u/BadCoachingAnalyst
Raiders holding the Steelers heart above Mt. Doom
r/nfl: "destroy it!"
Raiders: "no"
The NFL subreddit is pretty good and
the post+game threads had some spicy takes
. Neutrals very much wanted the tie to happen. Part of the rationale was that this would be the last chance for the tie dilemma to happen - the NFL will have these games play simultaneously starting next year. That's how it's been done in soccer since a similar controversy and it generally works. It won't be quite so straightforward in a league/sport with a clock that stops, turn-based play, and high-bandwidth communication between the sideline and players.
Myself, going in
I would have thoroughly enjoyed a 'Tiegate' scenario
where both teams very obviously settled for a 0-0 tie. Al Davis and John Madden would probably have enjoyed the unique situation where "Just win, baby" actually needs to consider winning the game and winning the season. I imagine Chucky would have enjoyed his team embarrassing the NFL after it leaked his "locker room emails" while investigating the misdeeds of another organization.
Goodell would probably have disqualified both teams
, because the spirit of competition outweighs the unforseen technicalities (except when tucking the ball is considered an incomplete pass).
After 69:58 minutes of game time, kneeling it out felt wrong. That game and, specifically Justin Herbert, changed my mind.

Epilogue
In honor this historic matchup, I'll post the Go Charge Go copypasta in its entirety:
hello. chargers need to win. i think they cand o that by applying more pressure on both sides of the ball. by dosng this they should draft good people that can do that. joey bosa is a good start but not good enough. i will alszso review their draft picks here. as i said joey bosa is a good but he was not th e best. they should have got jeremy tunsil. then in the next round they got hunter henery. i think he is goo d because he is a tight end like rob gronkowski who is also good. then they got max tuerk. this was a bad pick. they did not neeed a center. then they gotr joshua perry. this was an excellent pick. the biggest seal of the draft. he will mbe amazing. then they got drew paser a punter. this is a pure sit pick because he is a punter and it is late. i hate the chragrers for pickig this person. bten i forgive them for getting donovan clark. this is a good person. tunsil would be bette rthough. now that he have established the good of the draft picks we should see were thesee fit in. bosa can start riigh away. he is ready for it. hutner henery can aalso sart. i also beleve that max tuerk can start as well as s joshua perry. but not tat punter. ia also belueve donovan clark can do well bcause he is ctaully my second vousin. i do not if he can start though. but what about the quaerter back situation. phillip rivers is not that great abd he is aaging. if they want an aging old qb they should get peyont manning. i beleive theuy should have drafte dpaxton lynch. joey bosa is good btt he coudl ahve waited untitl the second round. paxtont lunch could have sstarted. i hate seeing him cry drafted by the broncoss. the chargers also signed lotes of udfass. whcih mean s undrafted free agent. will go go througg each one. first ikechi ariguzp. he is ok but we dont need old. then manuel aspiralla. we do not need cb, bad choice. then ben becjwith. this is a good signing. he can start. then cameron clemmons. anither good one. he can start. then titus davis. we dfinitely need wrs so this is okay. then nick dubar.nhhe is okay.then jahwan edwards. we do need rb bcause we signed dameraco murray. bad choice.then we signed erioc frohnhapefle. h won the chad pennington award is good. then curtis grant. def need ildb good. then brock hekking. this is good but i also would have rather brock oswwieler because we dont need rivers. then gordon hill. he is a good peosn. then josh lambo. another dumb punter. stop.then johhny lowder milk. we do need s so good. then ryan mueller. he has two positions which is weird. dont like. then brian parker. he was good. rhen dreamius smith. also good. thenf inally we have cole stoudt qb. this is the taelnt we need. the future of our franchise. rivers is old and bad. this is the toung yalent we want. then tyrell williams. good complement to stoudy. then again demetrious wilson. good backup to stoudy. by doing all ive said we can definitely became a great teama gain. use the plaeyrs well. go charge go
Source.