Appropriation
One morning whilst enjoying my oatmeal I decided to check on the going rate on an
underwater housing for my d700
. My slr has been around for awhile, and you'd think either:
Somebody's got inventory to clear.
Whoever spent 2g on a housing in 2008 would have moved on to a new setup. And, well, used photography equipment is a buyer's market.
I was almost completely wrong. There were quite a few full-price new housings and
not many used rigs
. The best place to find used gear ended up being forums on sites like wetpixel. People here were, however, either selling used stuff at 90% of the original purchase price or only dumping their entire $4000 investment (camera, strobes, pelican case. etc.).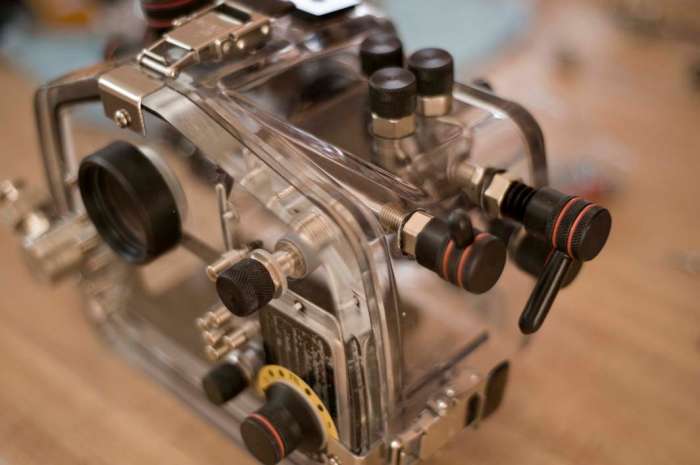 But I did find one. The
Ikelite 6812.7
. For it I picked up lens ports that would work for my 20mm and 50mm and an old Ikelite strobe (don't need super electronics yet).
I'm enthusiastic about
taking it on a dive
but - more pressingly - it's July, the water is warm, and I haven't done
nightsurfing
in
forever
.
Preparation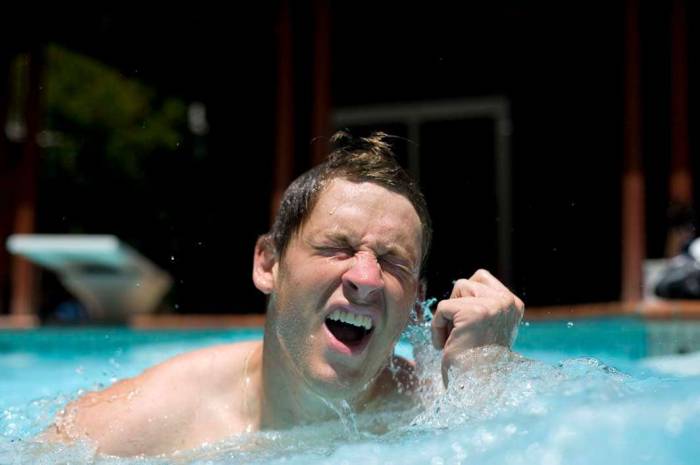 This was potentially going to be
a vast improvement on the previous sessions
(film + soft case, point and shoot + hard case):
A much better camera
Faster lens (50mm f/1.8)
Several hundred exposures vs 36
Histograms
Sturdy housing
Reliable use of the viewfinder
Indeed, pool tests indicated the
optics were good
. This doesn't necessarily map to success in the waves at night, but there was reason to be optimistic.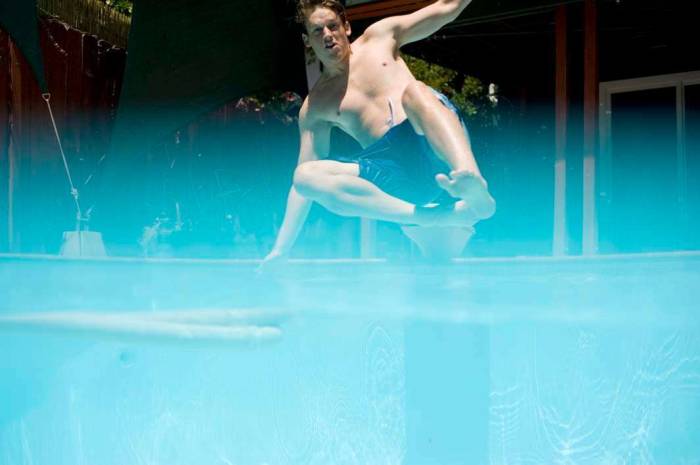 I ordered some cheapo
led tea lights
and strung pairs on some twine to be used as focus necklaces.
The plan was to mount the Ikelite strobe on the housing and use it to trigger the speedlight that
Jon
would be pointing at the subjects. Unfortunately, the strobe came with an Ikelite-Nikonos cable rather than Ikelite-Ikelite. Semi-fortunately, the speedlight housing was Nikonos format.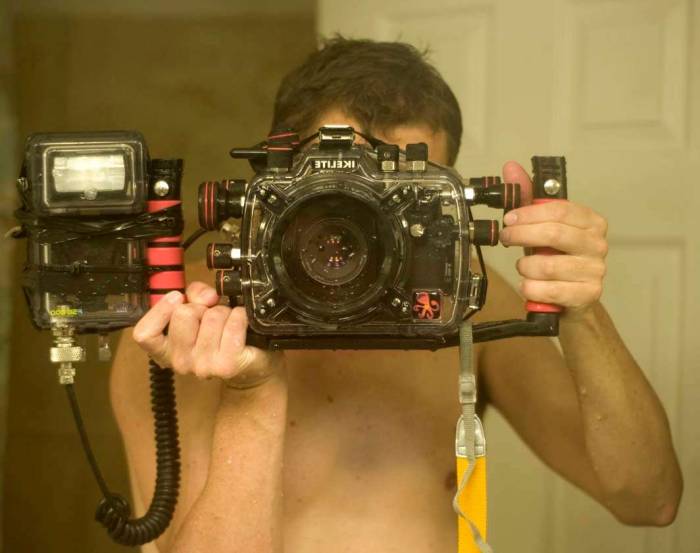 This still meant I
only had the single, front facing flash
and it meant I'd had to rig the speedlight to the camera housing. Well,
zip ties
and electrical/duct tape have never let me down in the past (except as a prophylactic).
Booties on the ground
Scott and Chris (hence referred to as Chris2) were my only people able to get out that night, in addition to
Jon
who was now liberated of flashing duties.
We headed to
Scripps Pier
at nigh-high tide just after sunset.
Focus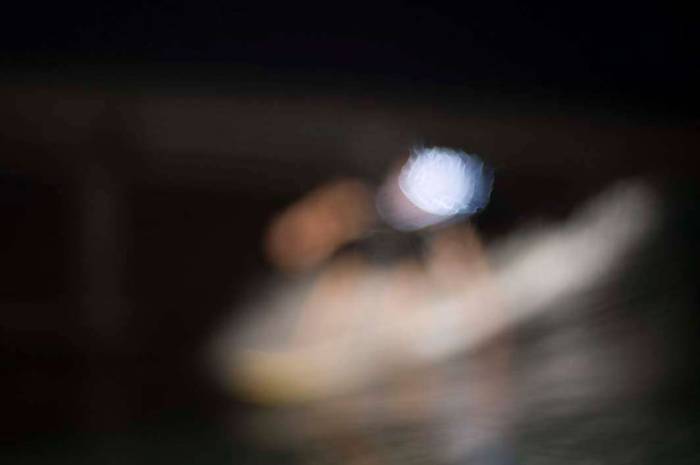 By far the
biggest challenge
for shooting any of these night sessions has been focus. Oh to have the speedlight infrared illuminator.
The leds worked very well for focus, but it was still
difficult to ensure they were in the focusing screen
when I hit the shutter. And, of course, an object moving toward you will progress out of focus in the brief period between pressing the button and the actual exposure.
As far as I know the only real remedy for this is coverage. Shoot shoot shoot.
Since I had
Jon
surfing rather than flashing, we didn't experiment with
using dive lights
to illuminate the subject and perhaps make focusing easier. Another technique I was going to try was
focus-locking the flash operator
and shooting from the hip.
Next time.
Some unfortunate misses:
Sharpness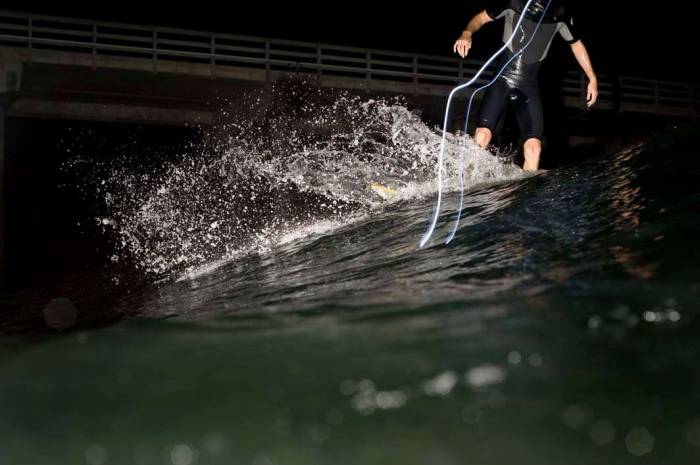 With many layers of optics (lens, filter, housing, water on housing),
sharpness was a big concern
. For those images that were definitly in focus, the setup seemed to work very well. I should probably lose the uv filter though.
The lens port seemed to shed water well, but I expect some images appeared blurry due to a post-duck dousing.
Lighting
The
speedlight did well in its ad hoc mounting location
. I did not hurt for flash power. Since it was sitting in a polycarbonate housing, the 105mm narrow beam did refract and illuminate the water right in front of me - which was bad.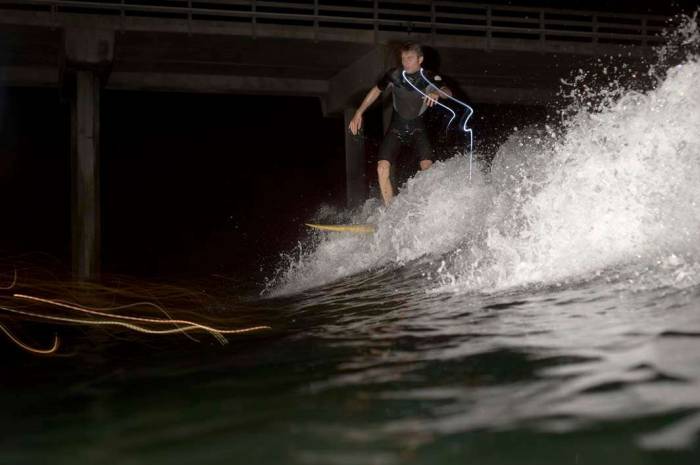 But I think
I'll always need an off camera flash
. The direct flash just catches too much reflective stuff and sometimes doesn't catch the subject well.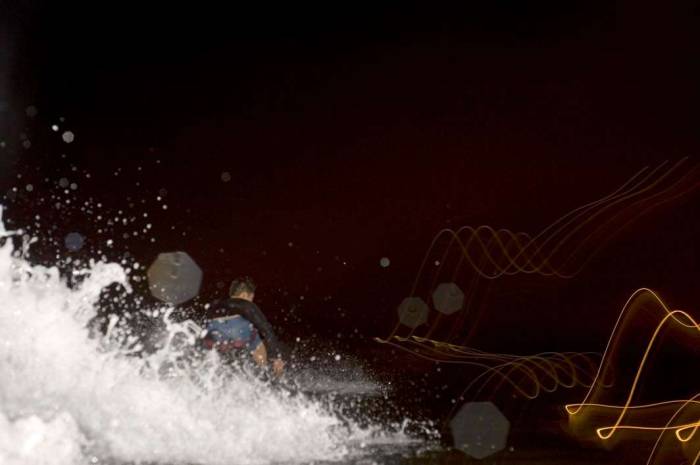 Interesting side note, toward the end of the session the flash frequently went from ready to standby to off. This was not good.
Lens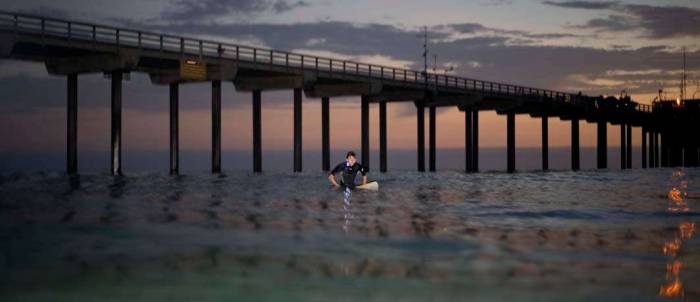 The 50mm f/1.8 worked out well. It is way faster than anything else I have, getting plenty of light shooting at minimum asa.
Other than the flash and leds, I caught dusk, pier lights, and SIO/La Jolla lights.
Prep/miss shots yielded some prodigious abstract art:
Execution
It was a good day for the session. A little more height and peeliness would have been nice, but it was super clean.
The rig was quite heavy
, so I would not have had much luck had been floating.
Chris2
Jon
Scott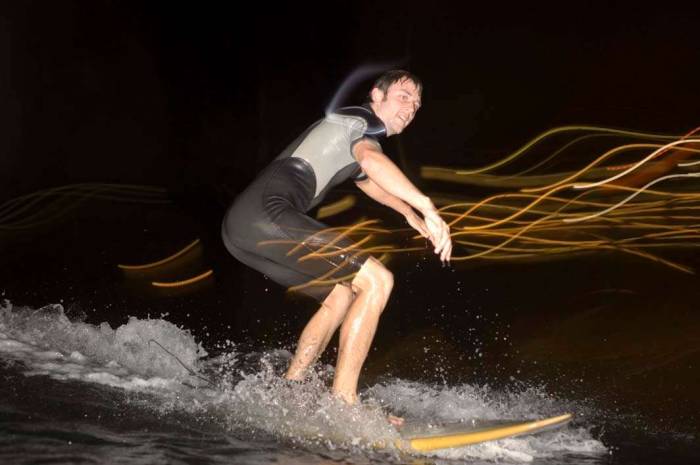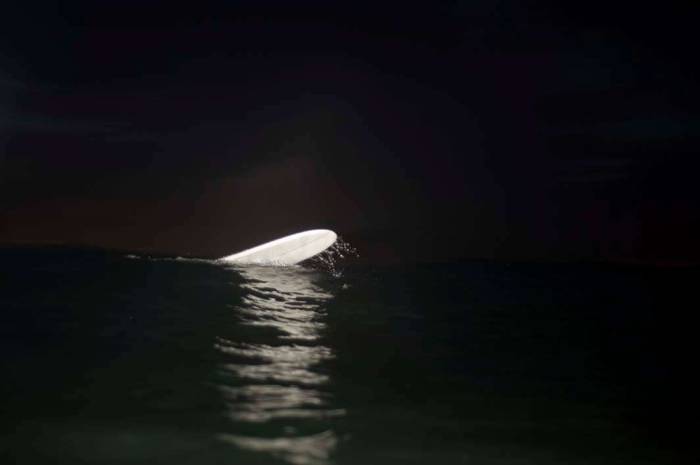 Addendum
Grace shot a few from shore:
Thus begins a tldr story of my journey to the
2014 World Cup
. My buddy Ryan had an in with the American Outlaws and brought me along as his +1. AO had two chartered jets and the majority of a few hotels down in Natal with catered transportation to each US match.
Prelude [13th-14th]
On the 13th Ryan and I caught a Southwest flight to Houston, arriving around midnight. Since American Outlaws Plane 1 was moved up to depart around this time, there wasn't much going on at the hotel when we arrived.
The following day
we had some time to kill in Houston
before our 15:00 checkin that nicely coincided with the England-Italy match. We first tried
8th Wonder
, but it was closed (at noon, on a Saturday!?!). This did not bode well for our desire to sample some local brews.
Since it was on our way back, we stopped by
Saint Arnold
. On the second floor of a nondescript building in an industrial park we found
an enormous beer hall
that more resembled a picnic than a brewery. I guess that's the thing to do in the summer in hot climates. The (mainly German-style) beers were quite tasty, eight bucks got us four healthy tasters and a souvenir glass.
We arrived at the terminal about an hour prior to the specified checkin time (start? end? no-one knew), hoping to get decent seating assignments and through security for kickoff. Check in started late, was extremely understaffed, and people weren't keen on queuing. But after a lengthy and annoying process,
we got to the terminal as the match approached the half
.
Unfortunately
there were only two spots to view the match
, a full restaurant and a small cafe with the Unavision feed. Both were showing low def feeds on hdtvs. We eventually settled on standing room near the restaurant so we could also get dinner.
Charter saga, vol I [14th-15th]
I don't recall exactly when we boarded, but I want to say it was just as Ivory Coast-Japan was wrapping up, so
maybe three hours late
. Okay. Not the worst airline experience, but then, this plane was here solely for us. What was the holdup? And here we thought it was going to be like Entourage.
We sat on the plane for another hour or so. The captain informed us that charters get the short end of the stick on many things, including baggage loading. Lame, but at least that part makes some sense.
We then heard via word of mouth that the charter company had switched out planes at the last minute, meaning fourteen people had to fly commercial and that
we'd have to stop in Puerto Rico to refuel
. Somebody clearly had not be assertive enough with the charter.
We spent 90 minutes or so on the tarmac in San Juan before taking off again. High fuel truck demand at 03:00 I guess.
So kinda unpleasant, but that's travel.
We are going [15th]
Getting in mid-morning left few Plane 2 people in any shape to attend the night-before US Soccer preparty in Natal, Ryan and I among them. But we did manage to survey the
hotel
and catch the Argentina-Bosnia match.
The Parque de Costeira really
isn't much different from what I've come to expect from Cabo, Cancun, etc
. It has picturesque pools, grounds, and lobby areas while the halls and rooms are considerably less pleasant. Cheap bedding, cramped shower, a nonfunctional fridge; the stuff never shown on their web site. But the most important things were there: hdtv and air conditioning. And while food and drinks weren't particularly appetizing, nor cheap, they weren't as overpriced as you'd find in the US.
Ryan and I brought boards
since 80 degree water and some rumors of waves. It turned out to be very choppy - wind was constant - but enough determination would yield a few brief rides per session. The Natal area is lush but also duney, so the sand in the break actually makes for tan, murky water rather than the crystal clear stuff I had expected.
Ghana [16th]
Our first full day in Natal was epic
. Germany destroyed Portugal as we rode buses to the preparty at a place near the stadium called
Dom Gurmet
. Fans decked out in red, white, and blue spilled out in to the streets, buzzing and chanting throughout.
Beach ball juggling, flip cup, beers, and appetizers. As the hour drew near we all made the march to the stadium.
Everyone knew our history against Ghana yet spirits were high.
Almost immediately, Clint rewarded our positivity
. We remained optimistic against the run of play, and were given the spectrum of emotions as the match played out. The Brooks goal sent the place into a frenzy that became increasingly agitated as the final minutes ticked away. Then the glorious final whistle dispelled any concern that the 2014 campaign would be an utter failure.
Trucks full of national guardsmen looked on as we paraded back to our buses for more post-match revelry.
Maracajau [17th]
Of course
I had to dive
. To hedge against the possibility of not finding a dive shop, I signed up for the trip offered through our travel package by a company called
IVI
. $200+ is pricey for a dive, but it was 50 miles away and a boat dive. Maybe it'd be really kick ass, an offshore reef sounded promising.
At 08:30 a bus took us north of Natal to a
restaurant
near the town of Maracajau. There were were told the boat wouldn't head out for another 2-3 hours and it'd be a good idea to eat.
Ugh, so it was going to be one of
those
kinds of trips. I've been roped in to one or two touristy things in my time, but never a PADI-endorsed dive (shop). Then again, the staff wore Brazilian jerseys with the company name on the back, so I was somewhat suspicious that they were perhaps unconcerned with trademark infringement. When I got back to the States I confirmed that PADI knew of no such dive company.
Had to ride this one out. Eventually the boat came and took us to the reef, which sat six feet below the surface. I had assumed that the snorkelers would dive the shallow reef and the scuba trip would take us along the edge of the reef. Nope,
we "dove" in six feet of water for about twenty minutes
. There were some fish, but that's it. The vis was terrible (wind over shallow water). Beers on the ride back weren't expensive, but then I've never been on a dive trip that didn't supply water, sandwiches, and/or beer.
When we got back to shore, our tour guide informed us that she had been mistaken about the
Brazil-Mexico match
time, and that it was about to start. Which we all had known. Not wanting to miss the match, she called an audible and took the bus into the nearby fishing
village
where there was an outdoor setup to watch the match.
This actually turned out to be very cool
; beer was cheap, the locals were nice, the projector rig was excellent, and a cow walked across the street followed by a cowprint cat.
I swear the last part is true.
Down time [18th - 21st]
We spent the few days before the Manaus trip
keeping it pretty mellow
. There were a lot of great matches to be watched and wind-blown surfing was daily. We had the requesite barbecue experience at
Fogo e Chama
. The restaurant did not disappoint and had great views of the Natal beaches. For the Germany-Ghana match I checked out the fifa fanfest,
located
spectacularly next to the suspension bridge and old fort.
On the 19th we headed back to Arena das Dunas to
watch Japan draw against Greece
. After the rollercoaster of the Ghana contest, watching a match just to enjoy the football was refreshing.
The heart of darkness [22nd-23rd]
On the night of the 21st we checked the Tendot announcements board, the 03:30 departure time had been amended (at around 22:00) to 02:00. So
after less than four hours of sleep we congregated in the lobby
. The Tendot people were calling room by room to make sure nobody missed the plane. The first bus arrived at 03:30, as originally planned. I kinda assumed they were doing that dick thing where you tell someone a bogus time because you expect them to be late, and insodoing screw over the people who can follow instructions. Later on somebody said they had just forgotten to call the bus company.
Check in didn't go particularly smoothly, but the Plane 1 people still made their morning departure time, more or less. Us Plane 2 folks were sort of worried because
there was no Plane 2
. After an eternity of wondering if we would make the match at all, we were told that the plane was being held in Forteleza by the Brazilian aviation authorities. Nervous times.
When the plane did arrive, so commenced
a cascade of reasons for further delay
; the flight crew wasn't ready, the plane was not fueled, the plane didn't have food, the preflight checks had not been completed, some paperwork had to be done. Each of these fairly-parallelizable tasks were revealed to us in succession so seven hours of waiting was meted out in 20 minute increments.
At last we finally boarded, I think around 11:30. We were ready and might just make it to the match in time. "Uh yeah, it appears we have somoeone on board not in the manifest."
Well that's a problem, but not too difficult to solve. Oh yes it was. They read off each name, one-by-one, having us raise our hands. Then they asked if anyone was on board whose name had not been called. Crickets.
Then they did it again. The same thing.
When that (forseeably) did not work, they decided to go seat by seat. Unfortunately, they did not mark a seat by each name on the manifest. Fortunately, 2/3 of the way through the process they found the person. The manifest was wrong, the person had raised his hand for a similar name, some stupid stuff. But it meant
another hour waiting at the gate
.
We did eventually leave.
At last we arrived in Manaus. The preparty had come and gone, but we had enough time to bus and then walk to the stadium.
Manaus was hot. Hot hot hot hot hot. But at least
we were there to witness some absolutely amazing US passing bookended a couple disappointing mistakes
.
One thing I can recommend,
don't ever watch a soccer match in which Ronaldo is playing
. I'm sure he's brilliant when at 100%, but it cannot possibly overcome the experience in the seats.
As you might imagine, there is only one Portugal jersey. Okay, mild annoyance.
Every time the ball goes to CR7, everybody goes crazy. Like his very touch imbues the ball with the ability to find the back of the net from anywhere on the pitch. I saw grown men squee and their girlfriends pretend they knew what was happening.
The locals were a semi-silent majority at most matches, mildly cheering against the US and whoever else they don't like. Well they love Ronaldo.
I don't speak Portuguese, but I'm fairly certain every time Ronaldo went down (which was a lot), there was a general consensus that there should be a public execution.
If CR7 happened to score, I would probably be in a Manaus prison right now.
In the wake of the match,
we all felt probably as the folks at home did
. Utter disappointment having our pockets picked in stoppage time, particularly after the performance turned in by Jermaine & co. But drawing against the fourth ranked team and taking four points into the third match was a great place to be. It balanced out to a
subdued, contemplative atmosphere
after the final whistle. This meshed pretty well with the Portuguese fans who knew advancement was nigh-impossible.
When we returned to the buses, Ryan asked the Tendot honcho if our planes were expected to leave on time (22:00), surely the charter had plenty of opportunity to get it together after the morning snafu. "Plane 1: 05:00, Plane 2: 07:00, see you at the airport."
Wat
.
Ryan hoped he'd misheard him. There wasn't an announcement or anything, the buses simply took us to the Manaus airport and everyone congregated in the check in area. Eventually through word of mouth we learned that
at 02:00 we would begin to check in
and then could proceed through security to the terminal.
Everyone was exhausted, having woken up at 01:30 that morning, traveled, sweated, and cheered. But the Manaus airport, in addition to not being particularly clean, isn't accommodating to weary travelers. And the closest thing to an available meal was mini-oven empanadas at the only open food stand. So
all five hundred of us tried to find some way to sleep on the concrete floors and planter boxes
.
Here was born the hashtag
#tendotting
.
At 02:00, Plane 1 began check in. Quite a while later, Plane 2 was permitted to check in and move through security.
We were pretty optimistic that the terminal would be far more comfortable than the check in area
. Even the Natal terminal has carpet. Well, the Natal airport is new, the Manaus airport is old. More freezing, dirty concrete (remember we came dressed for a day trip in very hot weather).
We coped as best we could. Some just kept pounding beers. I envied them but couldn't do it.
Plane 1's 05:00 departure actually happened at 07:00 and
once again the Plane 2 people were left to wonder what was going on
. No Tendot representatives had actually come through security, rumor afterwards was that they went to a hotel with the AO people flying commercial. In any event, it meant there were no update announcements and nobody even to ask.
At some point we were corralled down to a gate that was being renovated. Between the exhaustion, hunger, confusion, and rapidly rising temperature (the ac here was broken), people were beginning to get restless. The police came down to hang out with us, though our anger was directly pretty narrowly. The charter company guy was in the area, occasionally talking to airport personnel and avoiding us the rest of the time. Somebody overheard the
airport staff telling the charter rep that he hadn't paid for the fuel they put in his plane
.
Things might have boiled over completely had we not just resigned to go back to the part of the terminal with functional ac and just not do anything until the plane was being loaded.
We finally boarded around noon. Five hours on the plane. An hour on the bus. Exhaustion.
The rest of Monday was spent catching up on many missed hours of sleep.
Italy bites the dust [24th]
The
last round of the group stage
meant there were some very exciting do-or-die matches. One such contest was being played in Natal between Italy and Uruguay. Ryan and I had tickets - nay - Ryan and I had row f tickets. Though it's no serious telephoto lens, I brought along the 105mm.
The
match had a little bit of everything
: a goal, a red card, Andrea Pirlo, Uruguay fans whistling at an injured player being stretchered in front of them, the EPL's top scorer biting another person. Really, full value for the ticket price right there.
Road trip [25th]
In keeping with previous lessons learned (ahem, Wales), I had a rental car booked for the 23rd through 25th. Unfortunately, in May the Natal airport relocated from being a $30 cab ride to a $100+ cab ride. So I canceled, for the better as it turns out since the Monday was not a good day for driving. Still, Wednesday was wide open and they rented cars out of the hotel, albeit for twice the rate I had gotten before.
Ryan wasn't up for it, so
the surfboard and I hit the open road
in a pristine VW Gol(f), bound for
Pipa
. Everyone I'd met had raved about the Pipa excursion, but after the "dive" trip I was completely done with IVI. The highway (101!!!) wasn't bad, save for frequent speed cameras and the occasional ox cart. The way through
Goianinha
wasn't well marked, but eventually I found the twisty, awesome coast road.
The town of Pipa was great - narrow cobblestone streets lined by shops and restaurants. It was the right kind of touristy, and full of fans from many countries. I
started with a surf session
at
Lovers' Beach
. It was marginally better than back at the Natal resort, but actually had a few locals out. The Pipa town and beaches were great, I would have definitely opted to stay in that town for the whole trip.
After the session I headed back into town, grabbed a local surf shop tee, and had a
sandwich and acai bowl
as the Nigeria-Argentina match concluded. Not too bad a day, I got some okay surf, good food, and my full R$200 out of the car's suspension, brakes, and alignment.
Germany [26th]
The following day we
woke up early and hopped on our bus convoy to Recife
, complete with police escort. Everyone slept - or tried to - on the six hour ride down, when we arrived in town it was pretty rainy.
Things quickly
shifted into high gear when we arrived at the preparty
. This match - and the one played simultaneously - would determine whether or not the US advanced to the knockout stage.
After a short, wet walk to the stadium Ryan and I again found that
we were seated pretty close to the touchline
. Unfortunately this meant we were beyond the overhang and subject to the elements. It was a rough one, dominated in every way by the Germans, rescued from utter disaster by Tim Howard. We received occasional updates on the pivotal Portugal-Ghana match and maintained hope.
At the end, the
jumbotron showed us what we wanted to see: advancement
! Luckily there were plenty of Germans around to thank for running up a solid goal difference against Portugal.
Charter saga, vol III [27th]
Before the Germany match, the American Outlaws sent an official, vague, semi-apology for the Manaus airplane snafu:
We recognize that there have been plenty of frustrations around this entire trip. Some things have definitely not gone as planned and we have heard and understand your complaints. We have worked and will continue to work very hard for you, our members, to try and make everything work as best as it possibly can. No one is more frustrated than us about what has occurred over the last few days. When we return from Brazil we have every intention of reviewing and evaluating everything about this trip and to avoid future frustrations of this kind. On behalf of American Outlaws we cannot apologize enough.
In addition, somebody had shown Dynamic Airways the door and found
a new charter company for Plane 2
. Reason enough to be optimistic, right? We arrived at the airport on time for our 10:00 flight. Plane 1 was there. Plane 2 was there. But Plane 1 had manifest problems. Since Plane 1 was already parked at the sole international gate, Plane 2 couldn't leapfrog it even if everything else was in order.
Lunchtime came and went
. Since the international terminal was located in an under-assembly wing of the new airport, the only food and beverage available came from vending machines. Not to miss a business opportunity, an airport rep had the presence of mind to hand-vend the items at an inflated price. Cheese or smoke flavored crisps washed down with coke. Nutritious and delicious.
Plane 1 did take off at our 10:00 time slot. Once that happened,
Plane 2 waited
for a flight crew, waited for paperwork, waited for the plane to be fueled, waited for the food to be loaded, etc. Again, one excuse after another, such that when they did announce the next delay information on the PA, three hundred people shouted 'bullshit' in unison. Again the Policia Federal came to share our plight.
Dinnertime came and went. Smoke crisps were getting old.
Finally around 18:00 we boarded
, the in-flight meal served shortly thereafter tasted gourmet. Naturally, this meant we arrived in Houston after 02:00, cleared CBP at 03:00, and had to defer picking up the rental car til the next morning and instead cab it to the hotel.
Having only had a single meal since breakfast, I set out in search of food at 03:30. But the places within walking distance were
24 hour drive through only
. To have my rental car! I ate one of Ryan's Powerbars and went to sleep.
Free of Tendot [28th]
Once our fates were no longer dictated by a Derrick Eells and company, things went much more smoothly. I caught a shuttle back to the airport and picked up the rental. Ryan and I headed down to the AO bar,
Lucky's, to watch Brazil scrape past Chile
. Then on to Hobby and an on time Southwest flight back home.