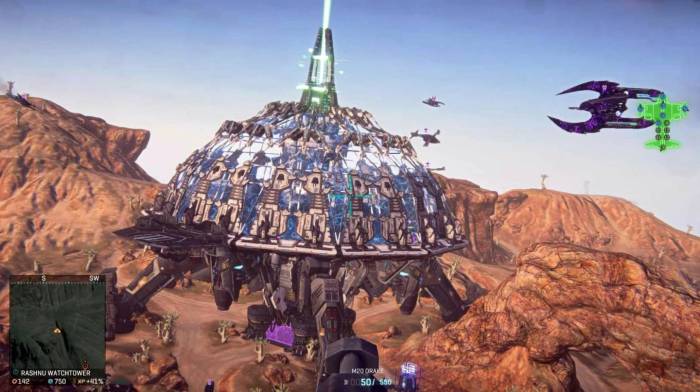 August is always the craziest month. So megapost.
Patio
Since it's been warm I decided that
it'd be nice to do a little wfp
(work from patio). I bought another set of string lights to light it in the evening, but also wanted to reseal the floor - it had a leak that didn't really matter since the patio is well-covered. I went with the same floor stuff that I
used on the garage annex
.
Pegboard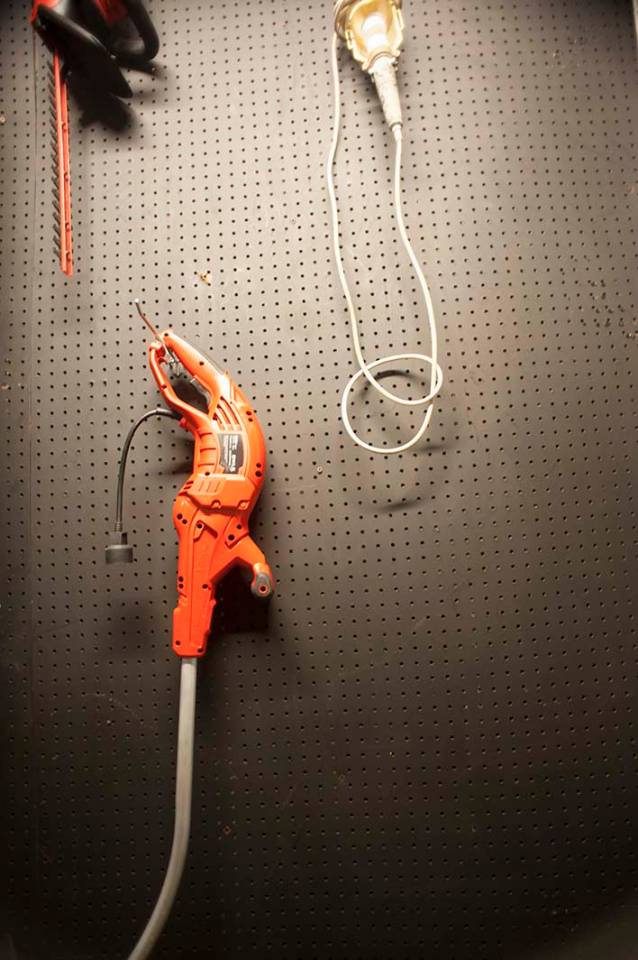 Part of the garage annex renovation has included the installation four
pegboard 4x8s
. Now I have proper tool storage.

There's some in the study for proper tooly storage.
Taco Party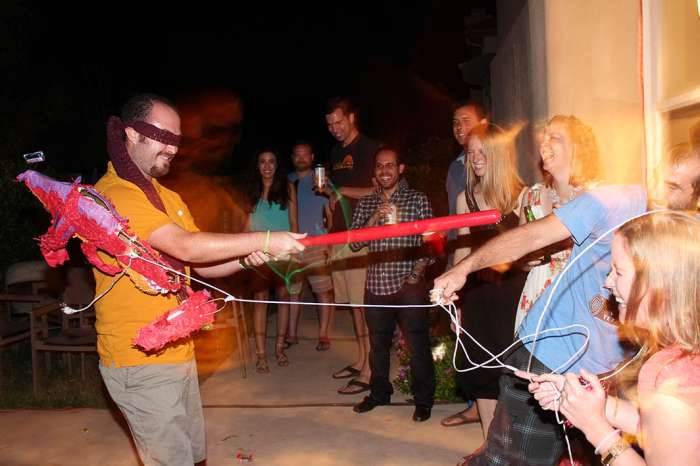 The Tonks hosted the annual taco party. Tacos, cervezas, pinata - the works.
Paso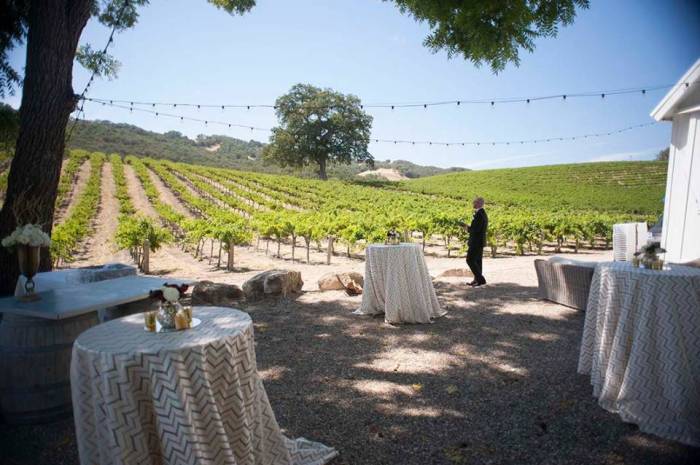 Dave
got married. It was very lovely but I shan't digress.
Except to say
wtf Los Angeles
. Eight non-commute hours to get to the Central Coast? Not cool, bro.
Fantasy d'ogs of war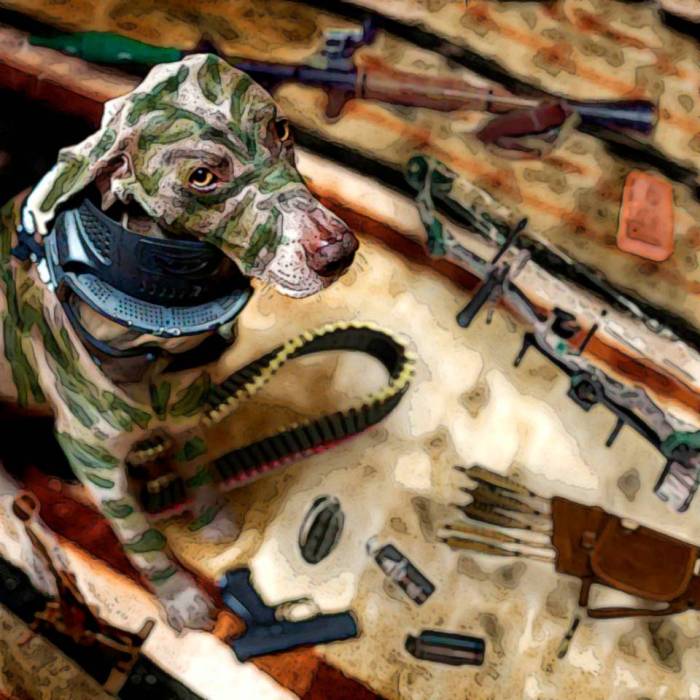 I drafted 14/14 in
Medieval Gridiron
, which put me
past the tier-1 RBs
when keepers were said and done. I pretty much had to go for Megatron and OBJ.
My
next pick was Brees
who, by the tenets of
Greedydraft
, is far more valuable than a lower-tier RB. This, of course, trusts ESPN's predictions and ignores the possibility that the New Orleans offense will be in shambles this year.
This left the undrafted running back bucket pretty empty, particularly when I neglected to quickly navigate the player search and ended up autodrafting Maclin. But with no-brainer starters at QB, WR, and D, I was able to
fill the bench with RB prospects
that might come good in the tumultuous early season.
By the numbers I should have grabbed Seattle's defense soon after, since
they are projected to net 44 more points than a 14th rank offense (the Jets)
, but knew I could get them as late as the sixth.
QB
Drew Brees
RB
Todd Gurley
RB
Charles Sims
WR
Odell Beckham, Jr.
WR
Calvin Johnson
TE
Julius Thomas
FLEX
Jeremy Maclin
D/ST
Seattle
K
Cody Parkey
B/RB
Terrance West
B/RB
Fred Jackson
B/RB
David Johnson
B/TE
Josh Hill
My starting IX in
Password is Taco
looks far more conventional, drafted fifth of twelve:
QB
Cam Newton
RB
Eddie Lacy
RB
Lamar Miller
WR
Randall Cobb
WR
Keenan Allen
TE
Jordan Cameron
FLEX
Andre Ellington
D/ST
St. Louis
K
Justin Tucker
B/QB
Andy Dalton
B/RB
Alfred Blue
B/WR
John Brown
B/WR
Kendall Wright
B/TE
Austin Seferian-Jenkins
B/D
Philadelphia
Some more Planetside 2 action
The Gates Memorial Footgolf Classic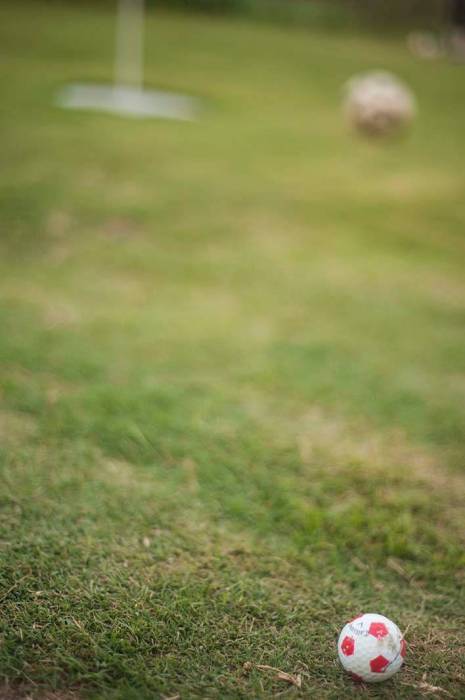 Last year the League of Sport did
footgolf at the Welk course
way up past Escondido. It was fun, but somewhat unimpressive, so this year we tried out
Tecolote Canyon
.
The first thing we noticed is that
the cups are installed properly
. Unlike Welk, there isn't a huge lip that sends your ball skipping away if it decides it doesn't like you.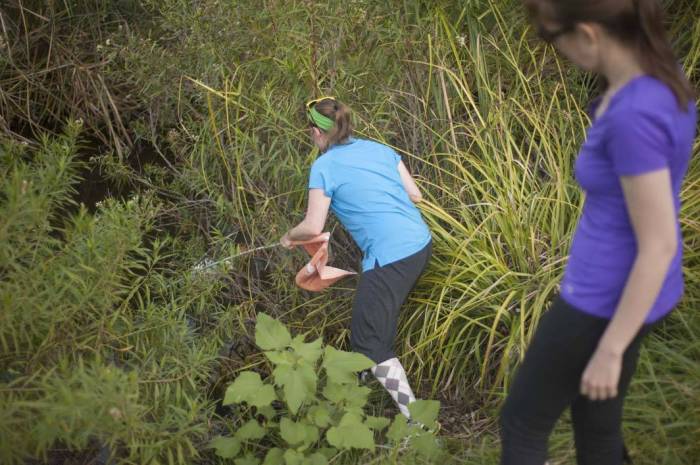 This canyon, like many, has a
creek
running through it. It his hazardous to left-footed slices and right-footed hooks. Another advantage to this course, over Welk, is that it's not a par 3 course.
Since it's League of Sport, we needed a twist. This took the form of a rule whereby you could
wall one opponent shot per hole
(tee/fairway) if you were up on strokes (this was a 2v2 scramble).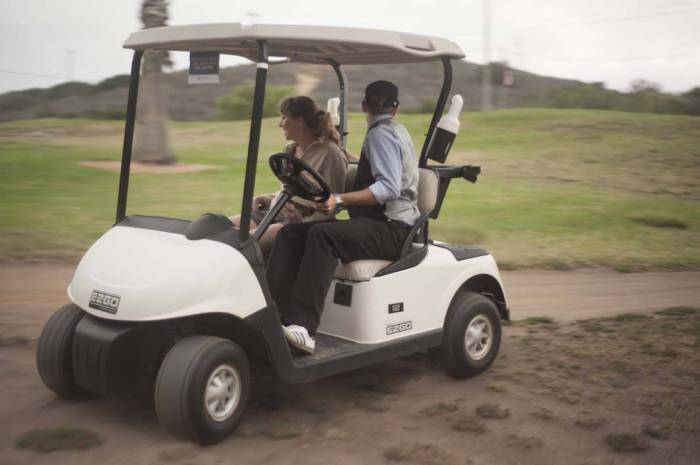 And any golf event is incomplete without some cart shenanigans, up to and including high centering on the lip of the bunker.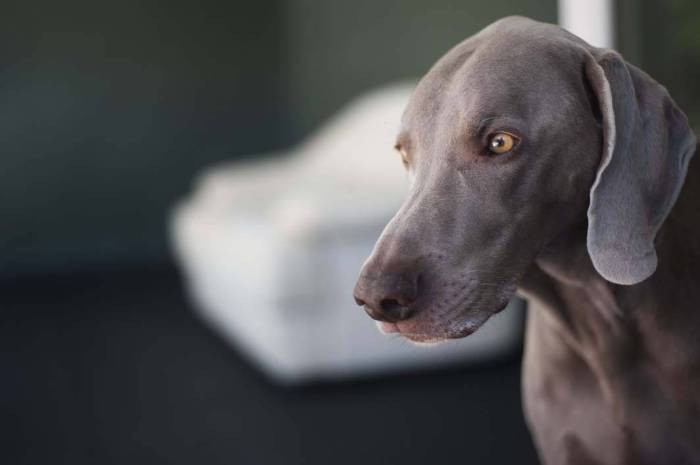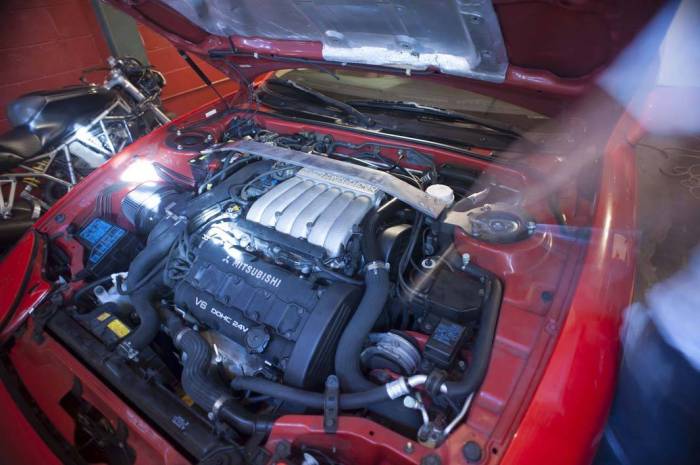 O2 sensor
The VR4 was throwing a
check engine light
. After paying $95 for a "diagnostic code check" on the Tacoma in conjunction with a smog check, I decided it was time to get an OBD reader. $23.49 + $6.99 cord and the free version of the Torque app later, I get: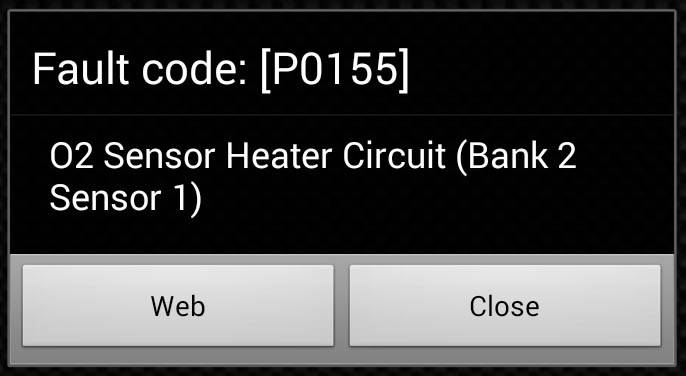 Cool, a
malfunctioning O2 sensor heater
is a pretty sure bet that replacing the sensor will fix the problem. Bank 2 sensor 1 though? The 3si forums pointed me to the upstream (of the cat) sensor on the left (rear) side of the block.
And there it was, but
could I reach it?
Stealth316
seemed to believe I could. Great. $30.29 for a sensor, #13801, that Amazon and Bosch assured me would fit "upstream left".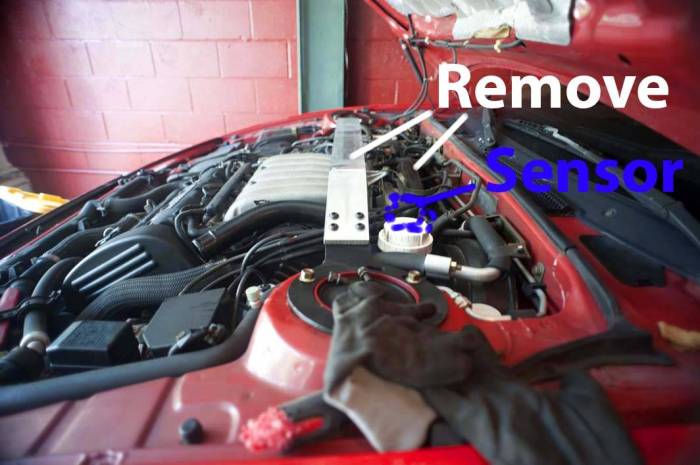 The space around the sensor is pretty tight, but it's reachable by removing a few pipes/hoses/cables. Getting the sensor out, however, was not easy. The first socket I bought only contacted the sensor on five sides, since it needs to get around the wire. This one actually bit into and partially rounded off the sensor. I bought a
different socket that offsets the wrench attachment
, this one eventually broke the sensor free.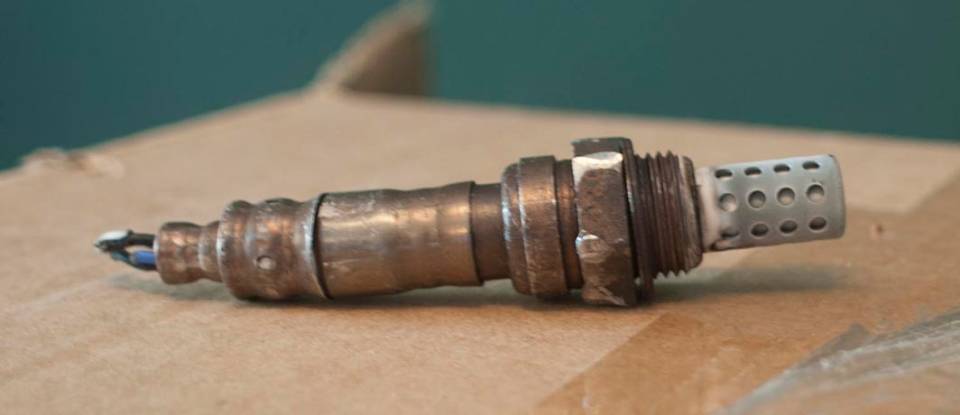 Installation was almost seemless. As it turns out, the
wires were not long enough
to reach the harness, so I had to splice. Bleh. Thanks Bosch.
Tacoma (shop): $95 odb scan (and hopefully some labor) + $85 sensor + $125 = $315.
VR4 (me): $30 scanner + $30 sensor + $15 sockets = $75.
The other upstream sensor looks like a total pain to access, but the downstream ones seem accessible from under the car.
Suspension research
Since the VR4's
springs and struts
were going on twenty years without replacement, I decided to replace them.
There isn't much out there, Tire Rack and Amazon both indicated the only way to go was
KYB GR-2s and H&R springs
. Cool, GR-2s and Eibachs worked very well on the Celica. I did find a few coilover kits ranging from $900-$2000, but was worried about fitment, ride quality, and longevity.
Again,
Stealth 316
was a great resource.
Rears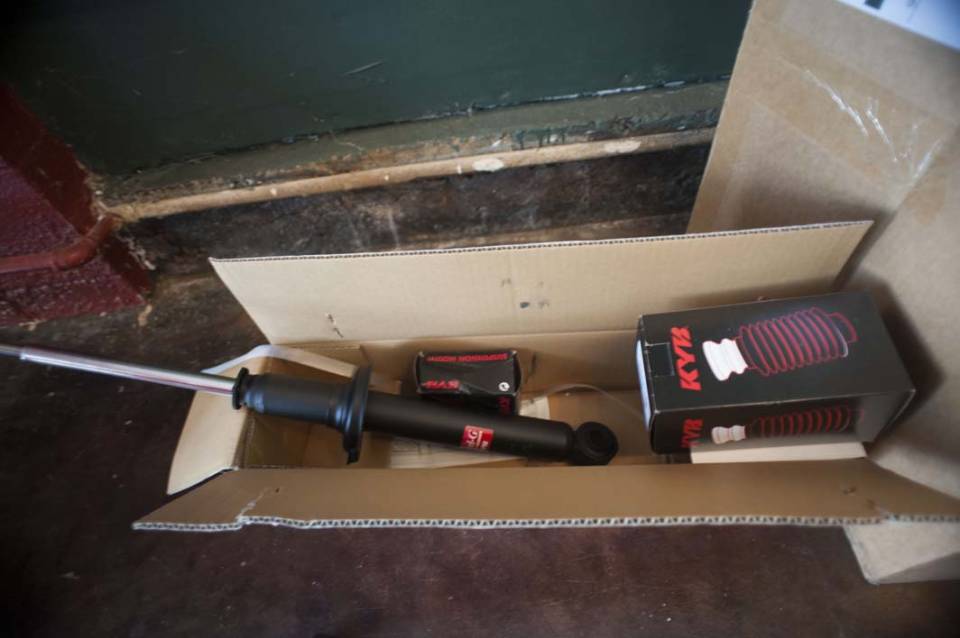 I started with the rears, since they attach to the suspension with a single bolt. Unfortunately, that bolt was robustly seized. S316 suggested using a
gear puller
, which I did not have. Since it was too late in the evening to buy one, I moved to the fronts.
Front removal
These had a few more bolts and two lines (brake and abs?) that attach to the strut. It was a bit tricky to keep the assembly from dropping onto the cv boot, but not too much of a problem.
Front disassembly
Getting the top nut off
can be a pain, but I managed using a pipe wrench to brace the lower section.
Front assembly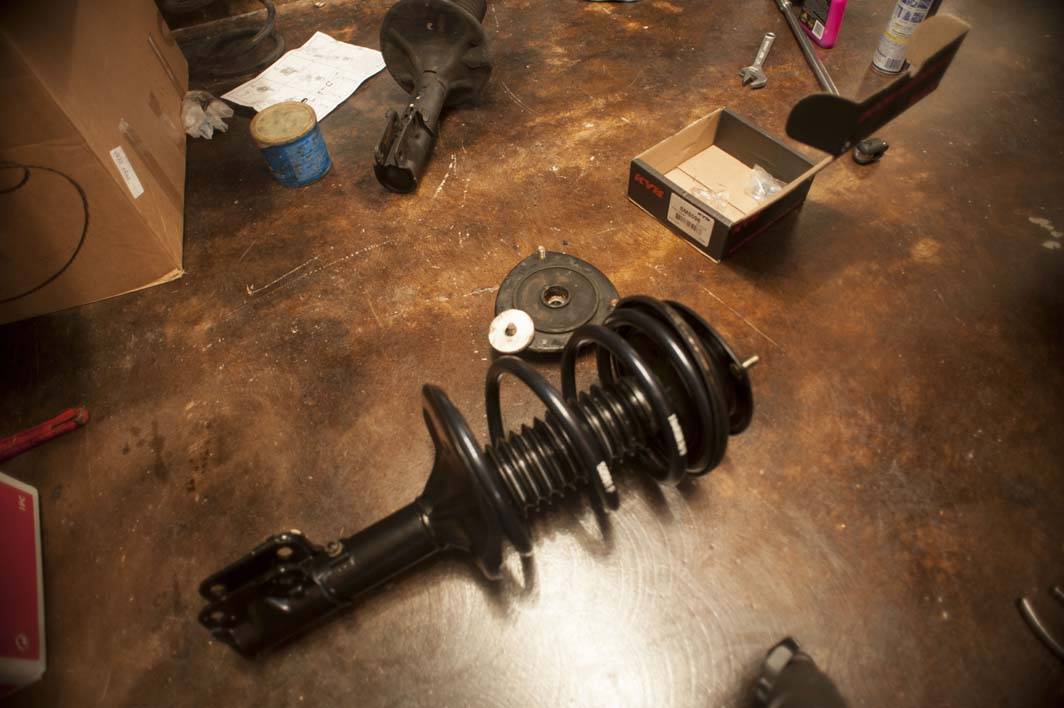 The strut/spring combination
went together as usual
: strut, bumpstop/boot, spring, upper spring seat (reused), mount plate, top nut. I used an impact wrench, gingerly, on the top nut.
Front install
Snaking the strut tower back into position
required just the right movement, but it worked out. Then it was just a matter of threadlocking and tightening everything.
Rears again, removal and disassembly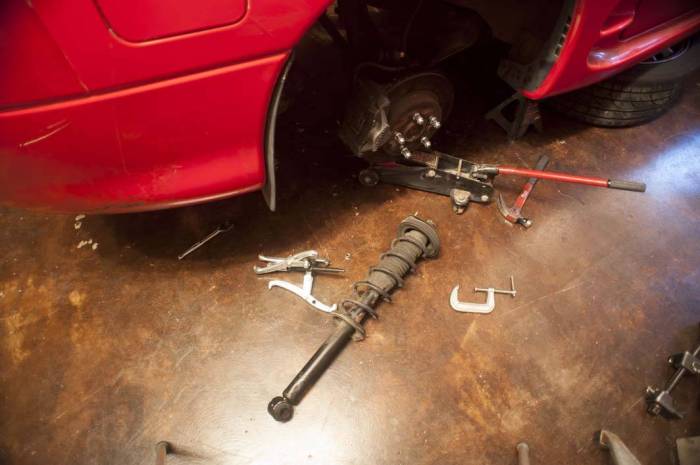 I went to the auto parts store and bought an $8, two-pronged gear puller. The arms promptly bent. I went back to the auto parts store and bought a $17
gear puller with three beefier arms
(seen above). It was challenging to simultaneously tighten it and hold the arms in place, but eventually it did the job.
Rear disassembly
The thing came apart without challenge, but here I noticed the
strut rod on the KYB was larger diameter than stock
. This is good, right? More strength.
Rear assembly
The wider strut rod seemed to be okay since the rubber bushings fit it perfectly, whereas they used a metal collar to adapt to the OEM struts. But I wanted to make sure I assembled the thing correctly, so I emailed KYB:
Hi, I'm installing struts and springs (H&R 52981) on a:
1997 Mitsubishi 3000GT VR4/AWD/Non-ECS

Using the following parts:
- Front strut 335013
- Front strut mount SM5096
- Front strut boot SB101
- Rear strut 341185
- Rear strut mount SM5091
- Rear strut boot SB108

Your application guide, Tirerack's, and Amazon's all seemed to agree that these are the correct parts. The fronts went on perfectly, but I am not sure how to proceed with the rears.

The mount and boot kits do not appear to match up with the strut.

- The inner diameter of the washer supplied with the bump stop is smaller than the outer diameter of the strut rod.
- The same diameter issue exists with the collar.
- All of the rubber pieces fit, the strut rod fits through the mount plate with enough space (axially) for the rubber bushing.

The apparatus actually can be assembled to fit in the car, however without the correct-size washer or collar, the mount plate is just sandwiched between bushings, which is disconcerting.

So, if there is another mount kit that better matches the strut, I guess I need to get that. Alternatively, if you can advise me on specifically how I should assemble it, I can get whatever washers/collars I am missing from McMaster-Carr.

Thank you for your help.
Their response was as lengthy as it was helpful.
Chris,

Sorry, that strut will not fit the rear of your 300GT. The 341185 is for converting from electronic. We don't carry a strut to fit the non-ECS VR4.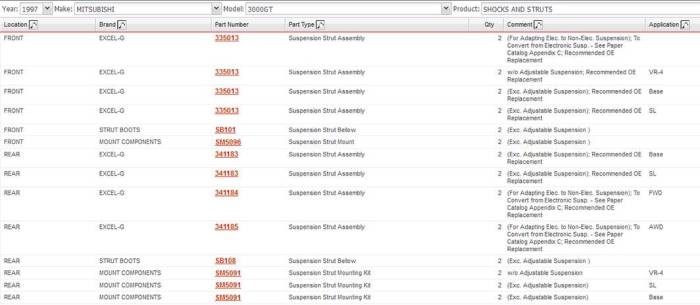 Gee, their only parts are unmatched struts and mounts. And you'd think adapting an ECS assembly to non-ECS would have some overlap with non-ECS originals. Between the fitment issue (remember Tire Rack and Amazon were under the same impression) and the terse, unhelpful response,
no more KYB products for me
.
Well, the
only difference between the old and new struts was a metal collar
that lets the rubber bushing fit the thinner strut rod. So I picked up some washers and put it together: strut, bumpstop/boot, washer, wider washer, bushing, mount plate, bushing, washer, lock washer, top nut.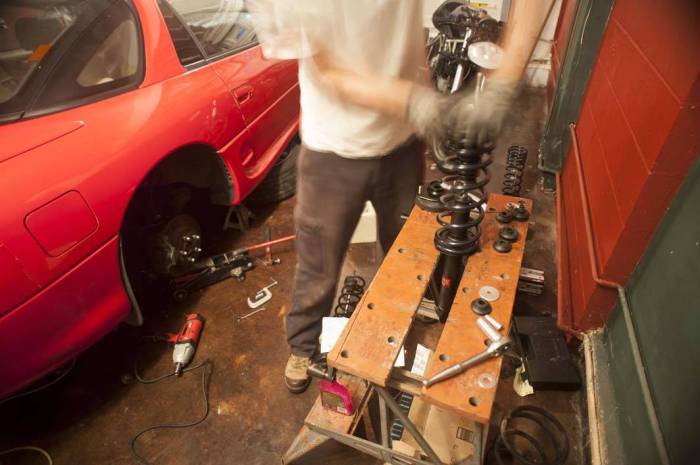 Rear install
As KYB stresses everywhere except their installation manual, don't tighten the top nut until the vehicle is on the ground.
Assessment
The
fronts are great and I am keeping an eye on the rears
. There is some light metal-on-metal contact, either:
The washers contacting their seat. I'll reassemble the strut tower with vinyl between metal pieces.
The strut rod contacting the mount plate. The bushing that keeps them apart may not be doing its job, in oem spec the metal piece would be here as well. An alternate bushing should remedy this.