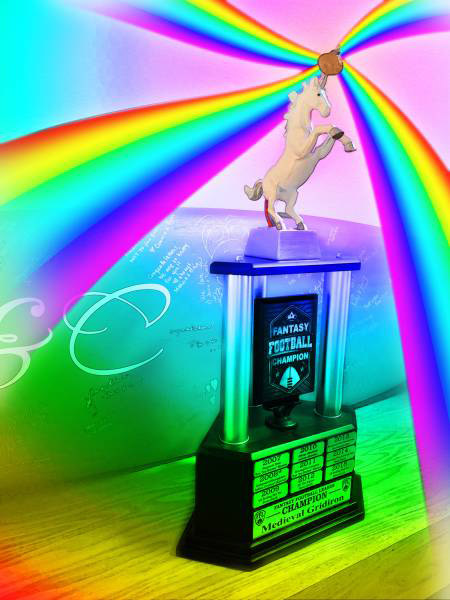 This is a fantasy football post. Tldr:
won one league, missed playoffs in the other, there was some banter
.
Password is Taco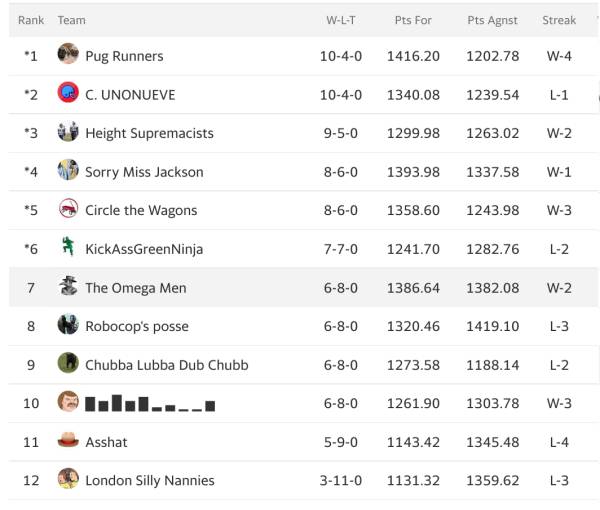 Despite having Dalvin Cook, Josh Jacobs, Ezekiel Elliot, and Cam Akers, I
missed the playoffs
in Password is Taco. Third in PF, last in consistency.
Medieval Gridiron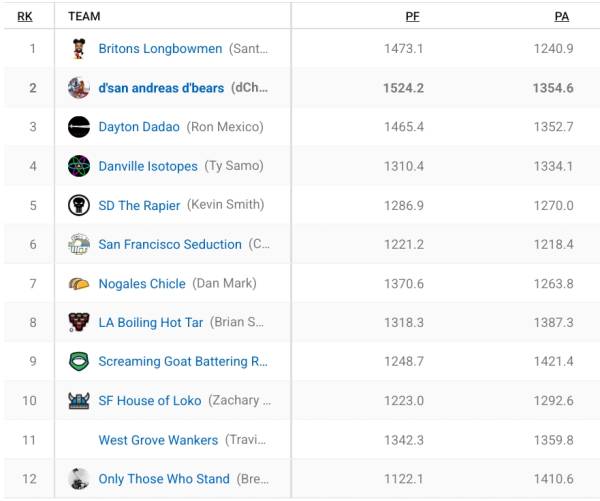 My PF also looked good in Medieval Gridiron and was able to convert it to a trophy.
Sants
was missing most of his stars so it wasn't really fair, even with the Bills cancellation. Other than benching JuJu,
my late-season smart moves were getting Akers and the Jags off the wire
. I also picked up Allgeier to prevent Santos (who had no waiver money left) from getting him.
Bantz from Sunday night
Before the Bills-Bengals game:

Sants
That time of the year
I don't understand these Android jokes

Zac

Chris
Self-uninstall is commonly the highest tier ragequit.
Did Santos go back to the store and return Fantasy Football?
Wait, wait, Chris hasn't even played his whole team yet

Dan
Stats guy, what is this biggest MOV for a championship final?
Quick, someone photoshop Santos's face on here

[Posts unflattering 'shop]
Poor sportsmanship from the champ, but well played

Chris
Champ-elect. The LMs still have to certify the result.
That's scheduled for January 6th, I assume?

Zac
The LM note
Jon
One Trade Too Many
It's all over and Chris is d'champion once more. Numbero Uno, if you will. He jumped out to a 6-1 record, putting to shame the ESPN and Fantasy Pros rankings (7th and 10th respectively). Josh Allen was unstoppable early on, Josh Jacobs was the comeback player of the year, and as usual Kelce was in a category of his own. With his bye week locked, he stumbled into the playoffs with two games under 80, but rebounded when it mattered averaging 122.

The playoff weeks were particularly odd scoring this year. In the Championship game Chris got 4.3 from Allen+Kelce, compared to 22.3 from Aker+JagsD! Santos bench was filled with all-stars (Hurts, Hopkins, Henry). His highest scoring player? Jared-fucking-Goff.

It's crazy and unpredictable, but that's how it goes. Chris joins the elite squad with multiple championships (Brian, Ty, Dan, JR, and maybe Kevin if we count pre-espn). Santos joins an even more elite squad of losing 4 times in the championship game ? ever the bridesmaid. Ty slid in 3rd for his 4th podium finish in 6 years (after not even getting to the playoffs in the first 7).

We'll see you next year. Until then, let's all think about how Santos traded CMC (27.3 points in wk17) for Henry (0), leaving him to play Foreman (3.5), and lose by only 14.4.
Allen was my keeper, I will miss him next year. For finishing the #2 RB Jacobs was very boom/bust, but I got him a little later than ADP.
Kelce is my perennial WAR pick and, well
:
| Rank | Player | Points |
| --- | --- | --- |
| 1 | Travis Kelce | 218 |
| 2 | George Kittle | 144 |
| 3 | Taysom Hill | 142 |
| 4 | T.J. Hockenson | 133 |
| 5 | Mark Andrews | 123 |
| 6 | Even Engram | 107 |
| 7 | Cole Kmet | 99 |
| 8 | Juwan Johnson | 94 |
Tangential