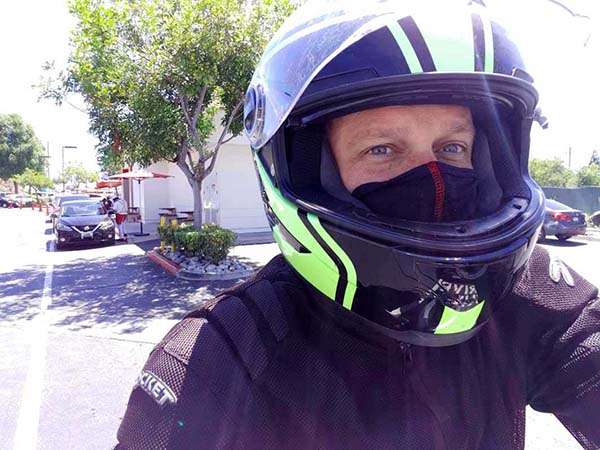 Covid time is time to revisit old projects and entertainment.
Painting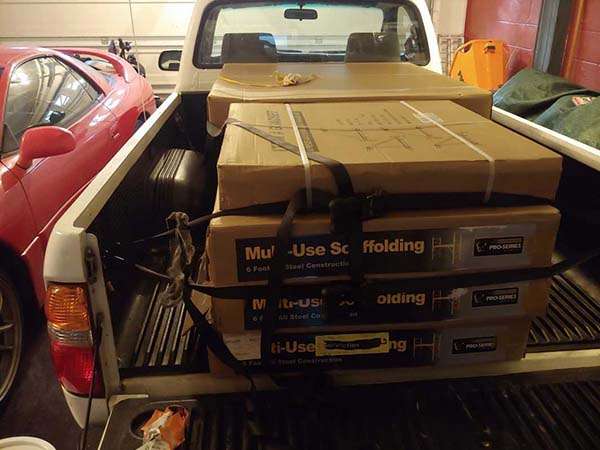 I finally
ordered scaffolding
as it is required equipment for completing painting on a house with a 30-ish foot wall. Since I expect to use it for occasional painting and tree trimming, I bought instead of rented and but went with
the basic Home Depot stuff
.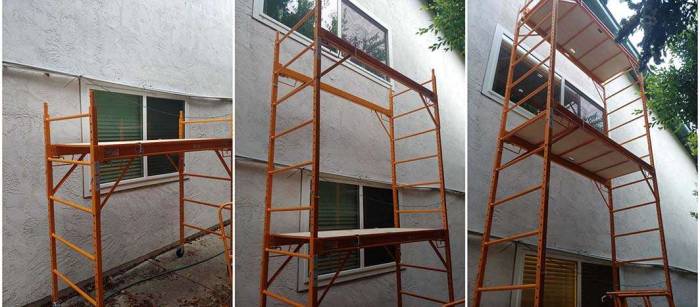 Putting it together solo wasn't too bad. The locking pins are an easy mechanism and nothing is particularly heavy. I think
I knocked out the unboxing and assembly in about 45 minutes
, minus the extra time from unwisely affixing the top platform before the safety railing.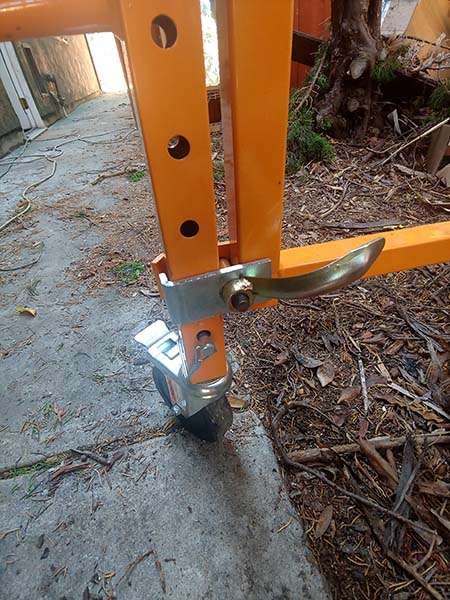 The only slightly-cumbersome mechanism is how the outriggers attach to the main frame. Removing and adjusting the pinching mechanism isn't too bad, but it turns out that
raising/lowering/removing the outriggers was the thing I did most
since I needed to slide the scaffolding along uneven ground.
The casters are better than expected. I'm used to consumer-grade Home Depot equipment having the lowest-tier wheels (which is often okay), but these are robust and with a large enough diameter to roll over extension cords with a light lift-and-push.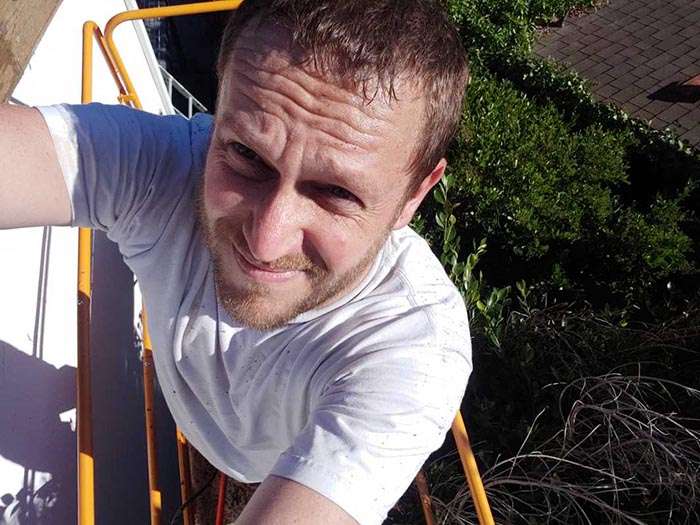 One thing you notice immediately is that the fitment of each piece is pretty generous. More to the point,
everything sways when you're on it
. It's disconcerting, especially if you look down. The top of the safety rail has about a foot of travel and seems only useful for looping power cords and gripping laterally as you climb to the top deck (due to the locking pins, it has doesn't have much play in this direction).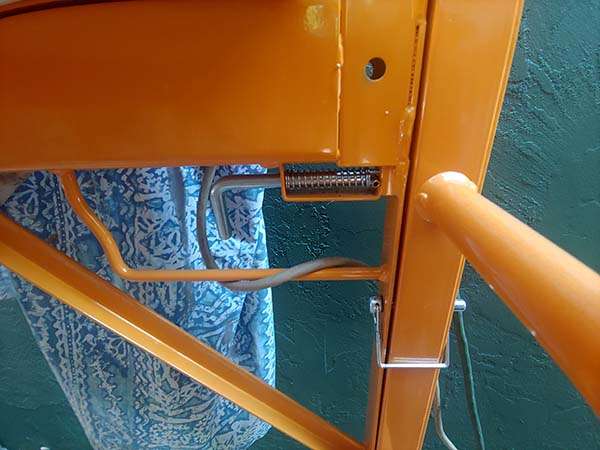 Aside from the play between the telescoping cylinders, for some reason the spring-action locking pins only pass through one hole. The manually-inserted locking pins do, however, secure both sides of the beam.
While catastrophic failure other than tipping seems unlikely,
I started the job clutching for dear life
, slowly got my sea legs, and ended it swinging between platforms with a mug of grog in each hand and a cutlass between my teeth.
It's worth emphasizing that
keeping three points of contact while climbing
is probably the most important safety consideration - and one that's difficult when you're carrying a sprayer, sawzall, or grog. Other than tighter structural fit, the one thing I'd want from this equipment is interior manholes to allow climbing on the inside.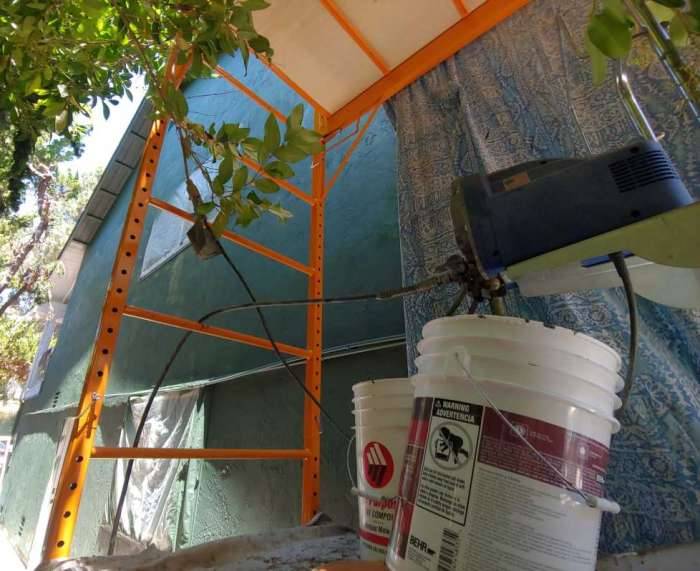 I
staged the power washer and then sprayer on the lower deck
, with a sheet to protect them from overspray. Being elevated ensured spray hose slack and meant that all the equipment would travel with the scaffolding.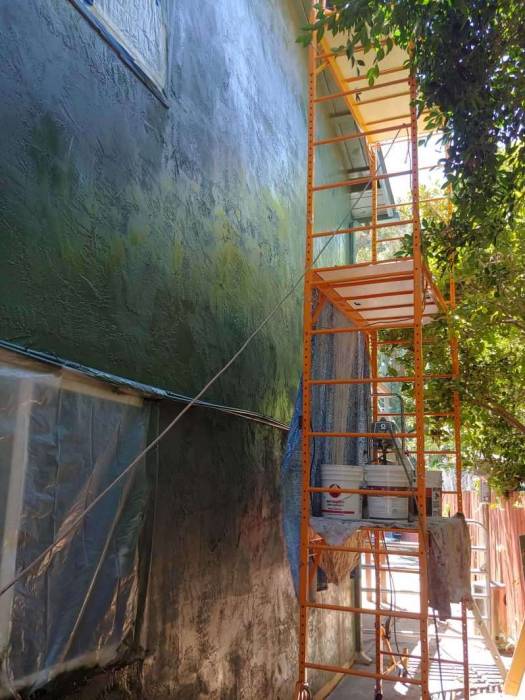 I was dismayed to find that while most of my eaves were pressure-treated,
at the very top they used doug fir
that some years ago ushered termites into the attic. I had found the droppings/damage when I first bought the place, but didn't know how they got in.
And that's about it, pretty quick project:
Day 1: Assemble scaffolding and power wash
Day 2: Paint stucco
Day 3: Paint eaves
Day 4: Tear down and clean up
Oh, also
Kafka
helped: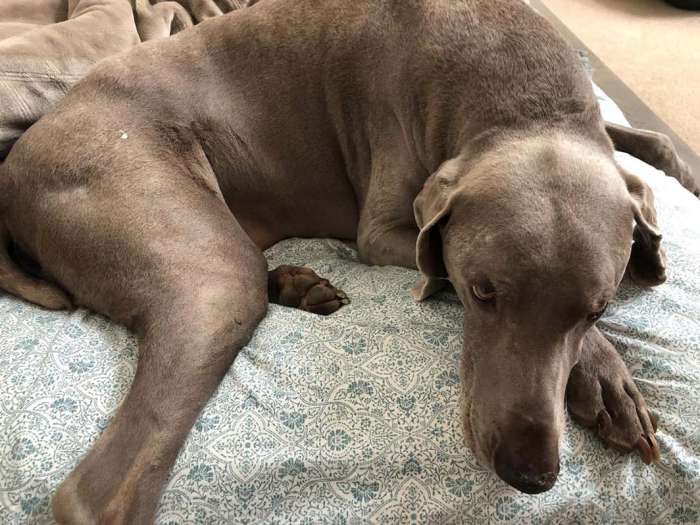 Jes
too, but she didn't have a paint spot to prove it.
Lens accessories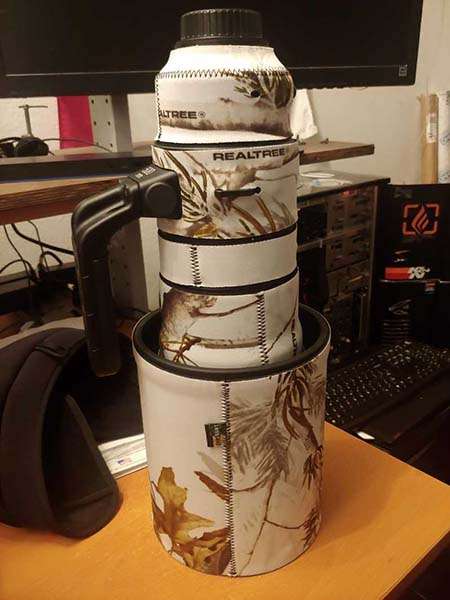 Having
browsed a lot of used lenses
, I decided to invest in a neoprene sleeve for the 500mm. I'm
not sure how effective it'll be against moisture and sand
since the rotating seams uncovered (as a necessity), but it doesn't hurt to guard against scratches. Most of the Lens Coat products are camo for nature photographers or try-hards, happily, they have a non-military snow camo print that may keep some of the sun's heat off the lens.
Bonds
And here's how much I'm just pushing buttons and calling it investing, I
had a couple of bonds get called and had no idea what that meant. Well, it's when the issuer decides to pay them off early
. Seems to make sense when interest rates are low, if you have the cash on hand or a better finance option. Anyway, since etrade is so terrible, I can't find the specific notification, but it was a California muni, meaning I probably took a loss on the whole thing. If it's not obvious:
Bonds have a face value that gets paid back (in this case, early).
Munis and other stable investments tend to cost more than the face value - it's not a new issue so you're buying from someone else at market value (above face value for high interest/stable, below for low interest/dubious).
If you buy above face value, at some point (ideally in the near future) interest payments will cover whatever premium you paid and you'll be back in the green.
I was probably in the red on this one, but not enough to care more than to now click "Exclude callable" when looking for new bonds. There's some more info
here
. Strangely, that article doesn't mention the flip side:

Issue:    Avis Budget Car Rent Llc /Avis - 5.5% due 09/02/2020
Event:    Partial Call changed to Full Call 09/02/2020@100.917 

Rental car company bonds have been trading below face value (I think even before covid). Before Hertz, I was of the opinion that any rental company in distress would probably just merge with a more successful one, so I bought some
Avis at like 85% of face value
. The called. So I'm missing out on two years of 5.5% but getting back my prinicipal and 15 cents on the dollar of someone else's principal. That's way better than my
mildly successful but fun NKLA put
right before their earnings call.

Issue:    Netflix Inc. - 4.375% due 11/15/2026
Event:    S&P long term rating upgraded from BB- to BB eff 07/28/2020 

It's nice to see Netflix finally moving out of the high yield/risk catergory and closer to the investment-grade stable bonds like United Airlines and Carnival.

kshot
I want my second plane.
I want my first plane.

Anonymous
I think I want my first house before that though.
Just remember you can always live in a plane, but you can't fly a house.
New content
Investing in pre-release Steam games has been good.
Barotrauma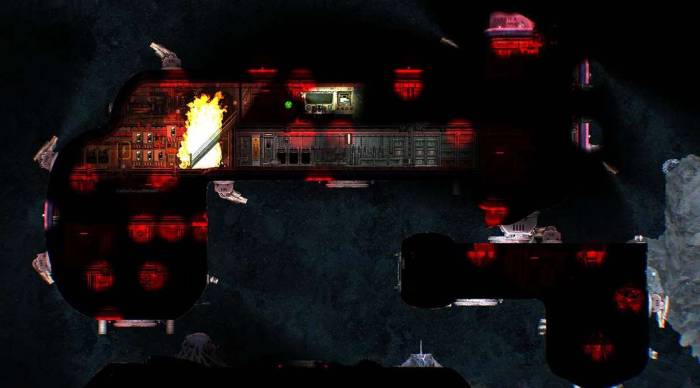 Barotrauma improved their campaign mode to make it more... campaign-y.
RoR2
Risk of Rain 2 added some content so we dove back in.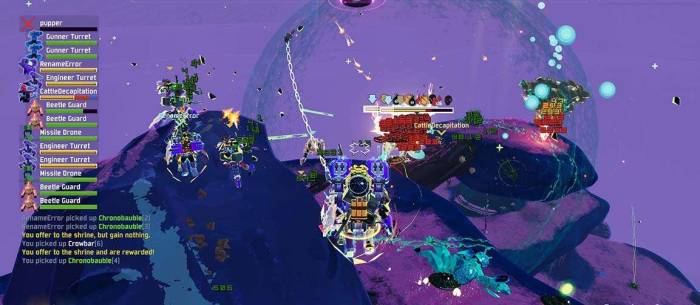 Sky Meadow is a neat map with a lot of verticality. The mushrooms are a royal pain though.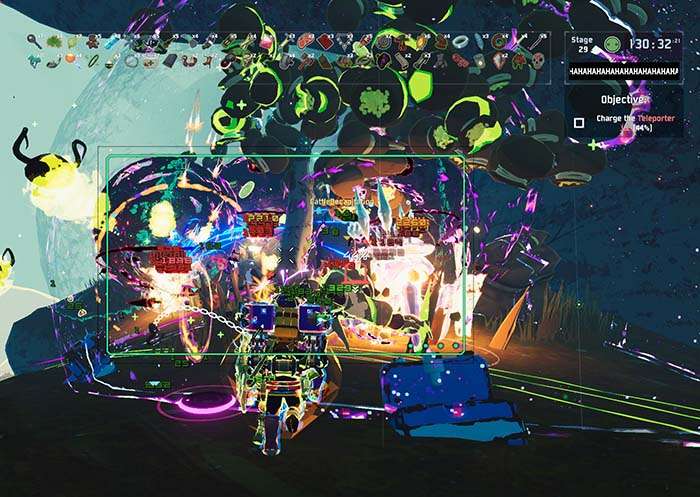 The
engineer's harpoon attack
(replaces shield) makes him a lot better at clearing squishies and making money. I'm convinced that favoring income is the best play, though I'm a lot happier when
Derrick
brings a shield.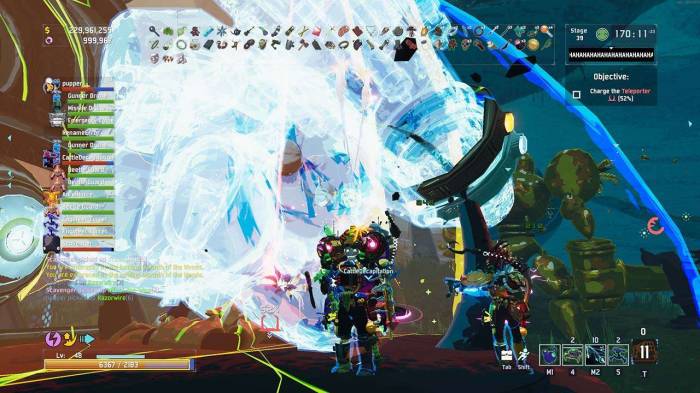 I'm not sure its spawn mechanics, but the scavenger (miniboss, drops eight items) could be really useful for monsoon runs.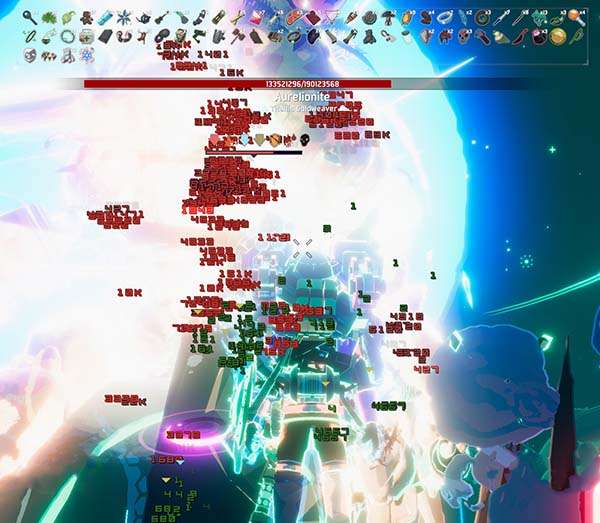 The last time
Cattle
and I put together
a run that beat the drizzle difficulty curve
, we simply could not die (we tried). We're finally back in form (for drizzle) and did the same but with a four-squad. Interestingly, even though we could drop bosses in seconds, we all found ways to (inadvertantly) take lethal damage deep into the run. Since it got late, we spec'd into Focused Convergence and Shaped Glass, then decided to obliterate ourselves at the obelisk.
I normally favor a preon or gravity cube in my equipment slot. I happened into
rockets with a handful of fuel cells
when half the team died before the boss was defeated. With Gesture of the Drowned, I was passive-firing seeker rockets every few seconds. Worked pretty well, partiucularly when combined with other effects.
Fantasy sports
It started with this:
New blaseball season starts tomorrow, who are y'all rooting for?

Mark
Sunbeams are in a rough spot, we didn't get a single blessing in the election
At least we have four outs next season.

Cattle
So each player's performance is RNG?
And then the fans bet/vote to determine the rule mods?
It's random based on player stats.
Went MCWW.
"The Mexico City Wild Wings are a Blaseball team in the Lawful Evil division of the Evil League. They have been a part of the Blaseball League since Season 1. They work hard, try their best, and have good splortsmanship."

Mark
"The Wild Wings team is comprised of a diverse range of players - from the star pitcher who exists outside of time, to an ordinary car tire piloted by rats, and a batter with the distinction of being the game's first part-seal player."
I have coins and peanuts.
I assume that means somehow I'm signed in.
Yeah.

Cattle
Yeah so I bought access to the shop.
And I bought the election thing.
But can't vote because I guess the season hasn't started.
Ok.
I ate a peanut.
Peanuts were added as a result of today's election.

Mark
Wait. How was there an election in the off-season?
Playoffs were yesterday and the election ended today.
If you click 'Book' you can see the current rules.

Cattle
I must not have a high enough clearance.
50% redacted.
Rule J has me worried.
That's just how the Forbidden Book has been since it was opened at the end of last season and the Hellmouth opened.
What's weird is that when I went to sign up it said my email address was already in use.
I got the same thing, it's fine.

Mark
You've actually always been a blaseball fan.
I mean, how could I not? I'm a part-seal rights activist.
Anyway, I think we can all agree that

Cattle
Haha. Who is the commissioner?
https://twitter.com/blaseballcomms
It sounded like if
fifth world problems
had a sport, so I was immediately curious.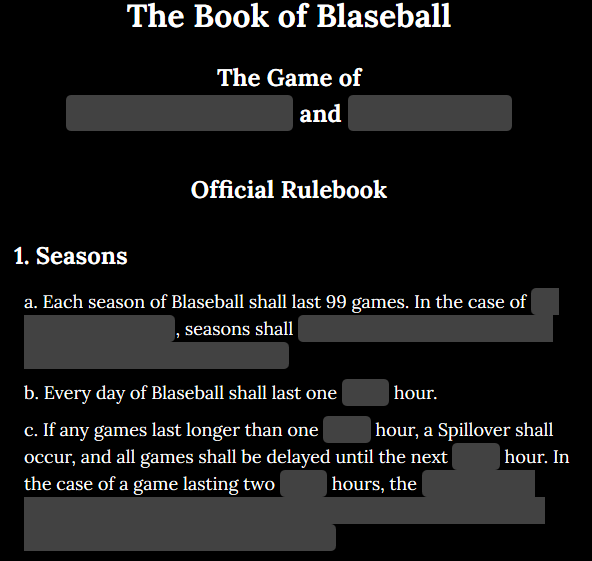 Really, it's just a simulated fantasy sports league based vaguely on baseball.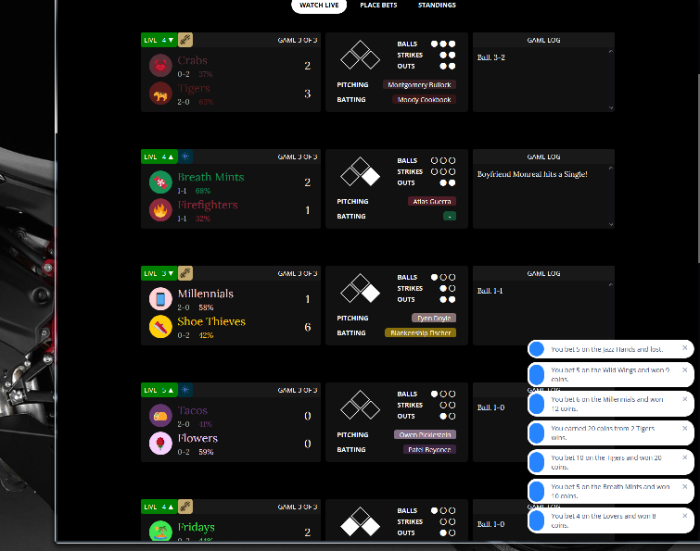 There are teams, wagers, and lore - lots of lore.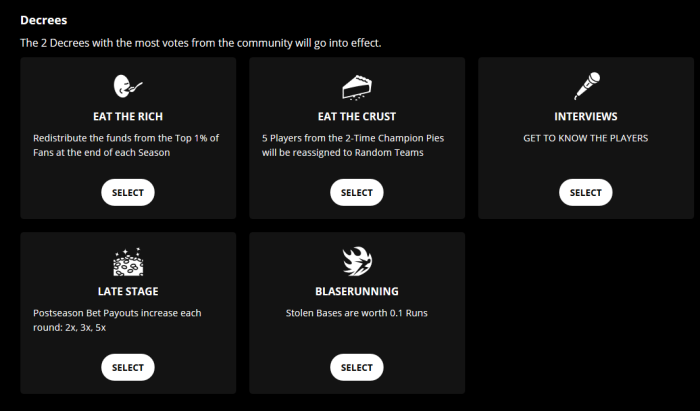 And between seasons the rules of the game change based on user feedback. Really neat idea.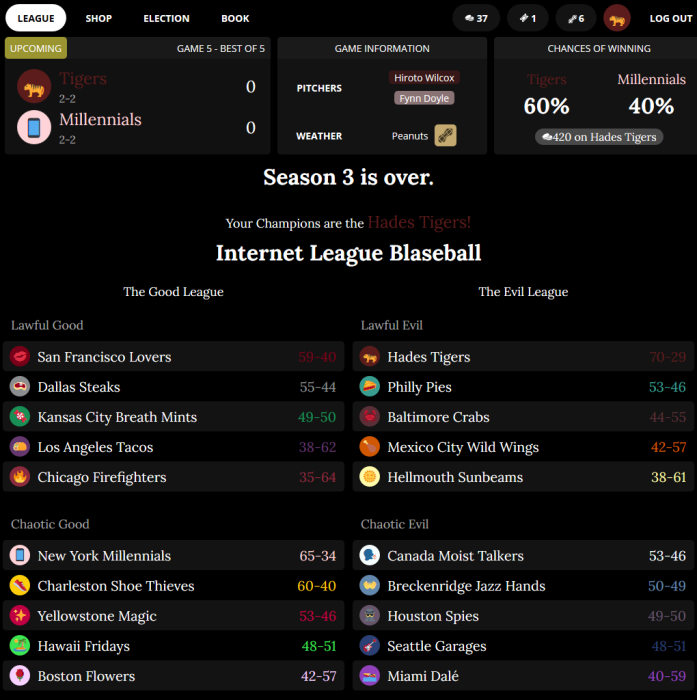 I chose my favorite team in the usual manner for someone uninitiated - based on the mascot that I liked the most. Behind the offensive powerhouse of Jessica Telephone and a pitching rotation featuring ace Hiroto Wilcox,
the Hades Tigers beat the New York Millennials
to win the championship.